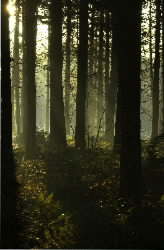 King's Wood is an area of two square miles near Challock in Kent. If you enjoy walking in King's Wood, you might like to know that The Friends of King's Wood exist to support the protection, preservation and improvement of King's Wood for the benefit of the public as a recreational area. Our aims are to raise interest in the woods, share expertise, give visitors a voice and to encourage liaison between visitors and forest users.
Throughout the year The Friends hold regular guided walks and a practical work day. Walks are free to members and accompanied children. Non-members are welcome and can pay £3.50 person on the day. Annual membership of The Friends costs £6 for a single adult and £12 for joint/family membership. Contact us for a membership form. See the Events page for details of our walks and activities
King's Wood comprises mixed broadleaf and conifer woodland. With such a regal name it should come as no surprise that King's Wood was historically a royal hunting forest. The quarry pursued was deer; and a large herd of fallow deer still run free in the wood. These days King's Wood is largely owned and managed by the Forestry Commission. Although timber production is important, management of the woodland is increasingly geared towards conservation and recreation.
2017 Walks and Events programme is now available!

Explore & Enjoy walk leaflets now available

After considerable time and effort, the Explore & Enjoy King's Wood walk leaflets are done! The leaflets can be found at various outlets in the local area and are available to download from the

Downloads

page. We hope this publication will ensure that King's Wood is enjoyed by even more people because this will help to secure the future of public access to the woods. The production of this leaflet was only possible because of an Awards for All grant and the hard work of Diana Sawyer and Sophie Walkden (Friends) and Jon Shelton (Kentish Stour Countryside Project).